Shetland Bereavement Support Service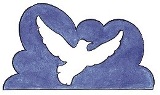 SBSS is a charity providing bereavement support to adults and children living in Shetland. This is a free and confidential service. The service is delivered by trained and experienced counsellors at Market House, Lerwick. Anyone can self refer. Sessions are delivered on a one to one basis. Please call us for more information, or look at our website.
Last reviewed:
02/11/2022
Services
Claimed
We offer free and confidential support for people experiencing grief in Shetland. The service is open to children and adults.
Contact information
You can use the information below to get in touch with Shetland Bereavement Support Service
http://www.shetlandbereavementsupportservice.com