Stepping Stones Organisation (Mental Health)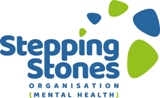 Stepping Stones is a registered charity and user led organisation that provides a range of services to people who are aged 16 plus and reside in West Dunbartonshire. Our service is informed by the Health and Social Care Standards and the Scottish Social Services Council Codes of Practice. The Support Service element of our work is registered with the Care Inspectorate. The services we provide are facilitated by qualified staff, trainees and volunteers who undergo training and receive regular support and supervision. Currently, there are no charges associated with the services we provide.
Last reviewed:
11/08/2023
Services
Claimed
One to one support can be offered in many ways in Stepping Stones including:
Guided Self Help (Workbook based CBT support)
Support Work
Peer support
Person Centred Counselling
Bereaveme...
Claimed
Our Recovery College commenced in January 2022. The aim of the recovery college is to link local people experiencing poor mental health and wellbeing, with an introduction to learning, though micro-skills ...
Contact information
You can use the information below to get in touch with Stepping Stones Organisation (Mental Health)
http://www.stepstones.org.uk